Mandalas turn up in many cultures, including medieval Europe (Hildegard of Bingen is quite famous for hers).
This one is influenced by the Book of Kells and incorporates various symbols of resurrection and the Seven Living Creatures of Celtic tradition.
At the corners are the four archangels, acting as Guardians of the Four Quarters (since a mandala represents, among other things, the world), and also Lords of the Elements. They have the faces of the four living creatures of Ezekiel and Revelation.
The Celtic seven living creatures are:
plants (twining around the outer ring)
fish (here the Salmon of Wisdom, a symbol of Christ)
beasts (lions - these lions are based on three dogs in the Book of Kells, and recall the medieval idea that lion cubs are born dead and are brought to life by their father's breath on the third day)
humans (from Kells)
reptiles - snakes are symbols of resurrection because they shed their skins, and these ones again are from Kells
butterflies (resurrection symbols because of their life cycle) - not from a Celtic original, as butterflies don't seem to have featured much in traditional Celtic art
birds - here peacocks, which were believed in the Middle Ages to have flesh which didn't corrupt.
Symbols of earth (leaves), water (waves), fire (flames) and air (feathers) feature in the four quarters.
At the centre, representing the Sevenfold Spirit of God, is a design from the Aberlemno Stone in Scotland.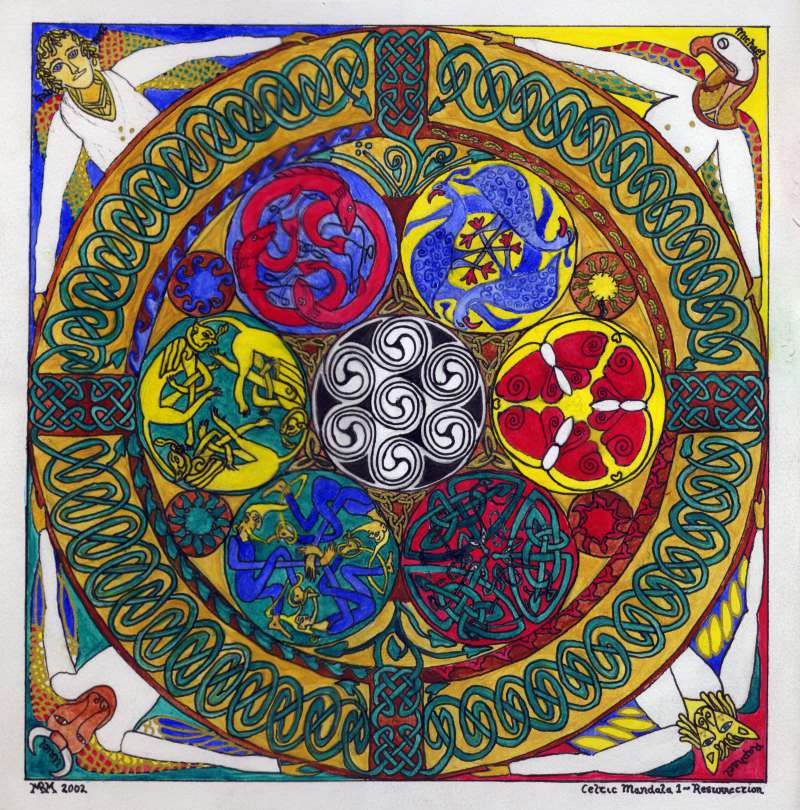 Created 2002. Acrylic on paper.