About the Gryphon Clerks
The Gryphon Clerks is a series of novels in a steampunkish-fantasy setting. The Clerks themselves are a corps of elite civil servants.
Here are the novels currently published or planned:
Realmgolds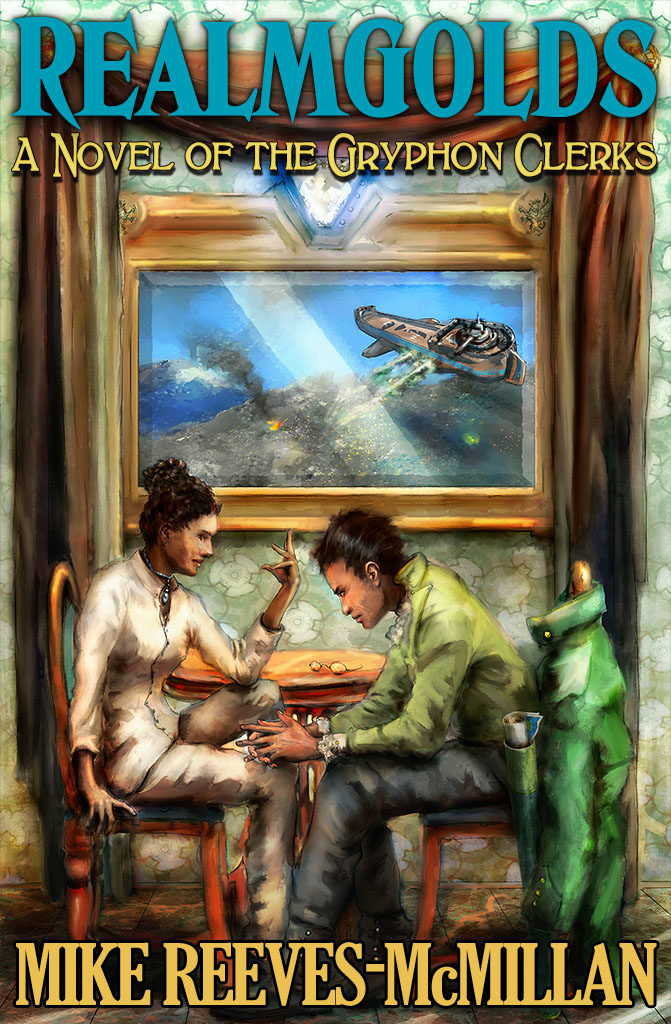 The Human Purity movement is growing in power and influence in Denning, attacking dwarf businesses and caravans and inciting popular rebellion against the central government, with the passive or active support of many of the ruling Golds.
Opposing them almost alone is the Realmgold, a young man named Determined. His problem is that, even though the Realmgold is meant to be in charge, nobody is paying much attention to him.
Victory, who rules neighbouring Koskant, would love to support Determined, but an ancient magical treaty between their realms means she can't send in her troops, her skyboats or her pressure guns. What she can do, though, is share a new magical communications technology – and her elite corps of Gryphon Clerks…
Released in March 2013. Buy from Amazon.
Hope and the Clever Man
Hope was a naive young magic student when she made a terrible mistake that almost got her expelled, despite her brilliant promise. Now she's been recruited to work with the Realmgold Victory's clever man, who's taking magical technology – and social awkwardness – to new heights. Or possibly depths, or dimensions. Neither of them are quite sure… and meanwhile Bucket, the clever man's gnome servant, finds himself at the centre of a political revolution for his people that will change the face of the realm.
(Takes place in the same timeframe as Realmgolds. Scheduled for release in mid-to-late 2013.)
Beastheads
At the same time as the events of Realmgolds and Hope and the Clever Man, negotiations are going on with the beastheaded tribal people to the northeast. Victory wants them to join her realm as a new province, but some unfortunate interactions with unscrupulous traders and the Human Purity movement have left them wary.
Victory sends in a hand-picked team of clerks: a failed shaman's apprentice with post-traumatic stress, an ex-gang member who was once put on trial for killing 14 people with a broken bottle, an honest lawyer and religious scholar, and a nervous werewolf who barely escaped death at the hands of a Human Purity mob.
With people like these on the job, what could possibly go wrong?
(Scheduled for release in late 2013 or early 2014)
Realmgolds' Agents
Grace is the privileged heir to an aristocratic family. Rain is a streetwise former gang enforcer. Naturally, when the head of the Realmgolds' Agents needs a two-woman team, he puts them together.
A key piece of evidence in an upcoming trial is missing, and it's up to Grace and Rain to infiltrate a country house, posing as mistress and maid, and find it before a traitor escapes unpunished. But there's more to the isolated manor and its inhabitants than meets the eye…
(No scheduled date)
Voyage of the Unconquerable
The military skyship Unconquerable has a critical mission: to scout a route to the east for the new commercial skyship trade. Along the way, its no-nonsense captain and her disciplined crew will meet adventure, discovery and excitement.
If you're thinking "steampunk Star Trek" you're probably not too far out.
(No scheduled date.)
Underground Railroad
Amethyst is a New Dwarf, a radical who not only believes in freeing the gnomes from their traditional servitude, but also thinks that female dwarves like her should be allowed out under the open sky.
Born into a conservative dwarfhold, she takes advantage of the new underground railroads that are being built to link the holds together, and goes looking for allies in her political struggle.
(No scheduled date.)
About the Author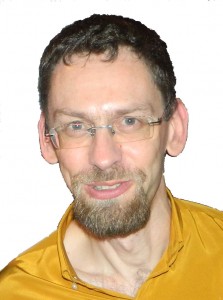 Mike Reeves-McMillan is a former book editor, a trained hypnotherapist, and the author of the political fantasy City of Masks and the science fiction novella Gu as well as the Gryphon Clerks series.
He has a black belt, which holds up his trousers. He's not sure why authors make such a big deal of these, but they are certainly convenient, trouserwise.