Someone who's reading Hope and the Clever Man asked me on Google+ today if it came before Realmgolds, which he'd already read.
There's a complicated answer to that. So complicated, that I drew this diagram: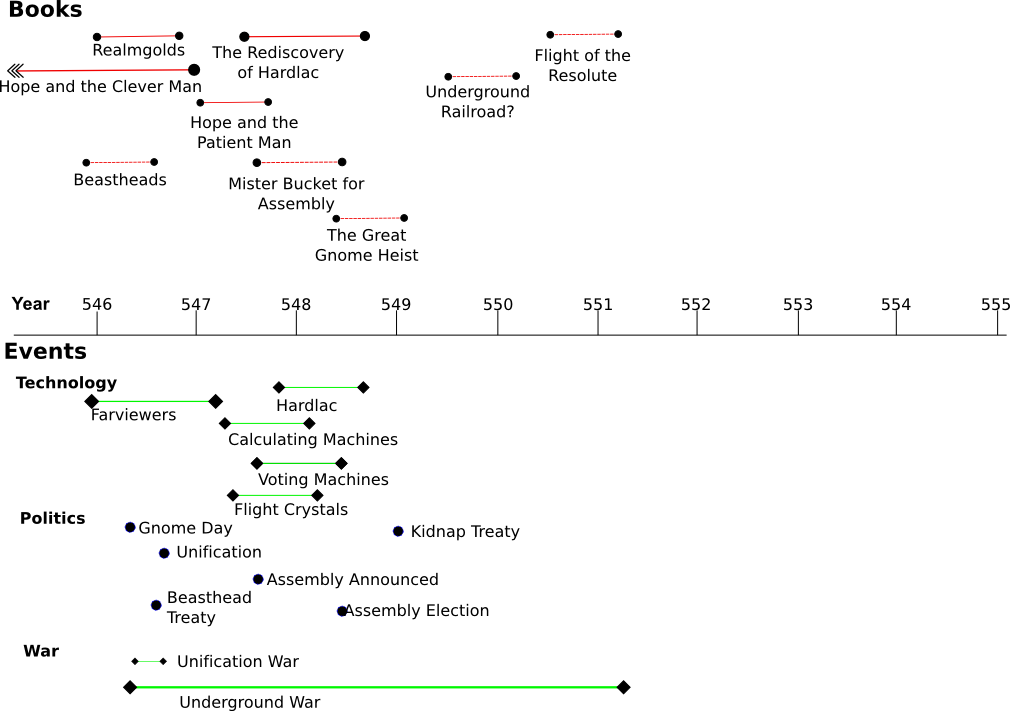 OK, the answer to that specific question is relatively simple. Clever Man starts before Realmgolds (in Hope's childhood), includes some of the events shown in Realmgolds from a different perspective, and ends after the close of Realmgolds. It's when you take the other books into account that it gets complicated.
I won't give you a blow-by-blow of everything in the diagram. The books you can check out on my Books page, which will also explain a lot of the other references, apart from the later ones because of potential spoilers. The Technology section shows when the various technologies that are significant in the series start to be developed and are successfully launched.
Farviewers, if you haven't read either of the books released so far, are basically magic mirrors that allow you to talk to someone far away. Flight crystals are the means by which the skyboats fly (they're antigravity, more or less). They already exist as of Realmgolds, but they're unreasonably expensive; the line shown is for the process of making them more efficient and cheaper. Hardlac is a light, strong artificial material (probably some kind of polymer) made by the ancient elves, who deliberately kept the secret from their human slaves. Its rediscovery, along with cheaper flight crystals, is key to one of Victory's cunning plans, and is detailed, unsurprisingly, in The Rediscovery of Hardlac. Technology, in the Gryphon Clerks books, is never there just to be cool. It always has social and political implications.
The Assembly is a new body of elected representatives, and in Mister Bucket for Assembly, we see the first election, with two characters from the Hope books standing.
The Unification War is the one that takes place in Realmgolds, though it's not called that there (it's a label that gets applied afterwards). The Underground War is the economic struggle between Realmgold Victory and the dwarves. It's kind of like our world's Cold War in that it's only a war metaphorically.
Obviously, this is all subject to change. Of the unreleased books, I'm nearly finished with Hope and the Patient Man, and it should be out in early 2014 (exactly when is partly reliant on my cover artist, who is backlogged for various highly legitimate reasons, though there are still several rounds of edits to go, too). The others range from "I have a draft that I'm not happy with" (Beastheads) through "I have a reasonably clear idea how this will go, but the devil's in the details" (The Rediscovery of Hardlac, The Great Gnome Heist) to "I have a concept and not much more" (Underground Railroad).
You'll notice a lot of overlap in the timelines, particularly early on (no guarantees that I won't add more books later and do the same thing, though). This is because my world is a large one, there's a lot going on, and I like the idea of looking at events through different sets of eyes via characters who occasionally cross paths. I'd also rather write three 80,000-word novels, each with one clear protagonist, than try to twine them all together in some 250,000-word chihuahua-crusher.
I haven't been watching closely, but I did happen to see that Hope and the Clever Man briefly made it to #90 in Steampunk on Amazon thanks to my post-Christmas sale. It's still going on as I write this, so if you haven't yet picked up Hope and the Clever Man or Realmgolds, those links will take you to them.