(All Amazon links from this page earn me affiliate commissions above and beyond my usual author share. You pay the same amount, but I get more of it. So if you want to give me maximum support, this is the place to start.)
If you're looking for my short stories or the Auckland Allies or Hand of the Trickster series, they each have their own part of the site.
Gryphon Clerks series
The approach to "series" in the Gryphon Clerks books is more like Terry Pratchett's than your typical epic fantasy - you don't have to read from the beginning, though there are recurring characters and interlocking storylines.
Novels: Published and Available
Beastheads


When the old shaman took Berry away from her home and family, she expected to become a shaman in turn. But after her oath shatters, she finds a new place as a Gryphon Clerk, helping negotiate a treaty with the beasthead people.
A beasthead shaman stands against her, fearing the loss of his people's way of life and the corruption of their youth. As the Human Purity movement gains power in a nearby realm, though, the beasthead and the clerk must find a way through their differences before war destroys everything they value.
Place in the series: Overlaps with the events of Realmgolds and Hope and the Clever Man, though it both starts and finishes earlier than those books.
Beastheads is available from Amazon (currently exclusive).
Realmgolds
A reluctant, inexperienced and ineffectual ruler must become the leader his people need when an old rival's hate-filled rhetoric foments rebellion.
The young ruler has an ally and mentor, a competent woman who rules the realm to the south. Unfortunately, the ancient magical treaty between their realms means she can't send in her troops, her skyboats or her pressure guns. What she can do, though, is share a new magical communications technology – and her elite corps of Gryphon Clerks…
You can get this steampunkish fantasy novel here:
Realmgolds
is also available in Italian translation as
Aureoregnanti. 
See the
Translations
page.
Hope and the Clever Man
An act of powerful magic in a moment of rage almost destroys Hope's magical career before it starts, leaving her more determined than ever to prove her worth.
Her chance comes when she's assigned to work for the eccentric inventor known as the Clever Man. The magical technology they create together could change the course of a war and help an oppressed people plan their revolution, but wealthy and powerful interests will fight to put it down any way they can.
Place in the series: This book's timeline includes all the events of Realmgolds, and the two have several characters in common, but either can be read first. There are some spoilers for events in Realmgolds, but nothing you probably couldn't work out for yourself early in that book.
You can get Hope and the Clever Man here:
HOPE AND THE PATIENT MAN


When a promising date ends in head trauma and ruined trousers, Hope must confront the curse she accidentally placed on herself at the end of her first relationship. But can she do so while also qualifying as a Senior Mage, solving the mystery of her parents' toxic marriage, and helping two awkward friends communicate - all while periodically blacking out?
A love story, with engineering. About - and for - smart, nerdy women and the men who adore them.
Content warning: While it doesn't depict sex directly, this book does contain "adult situations" and what one reader has described as "delicate eroticism". If you're uncomfortable with these elements, this isn't the book for you.
Place in the series: This is a direct sequel to Hope and the Clever Man and picks up where that book leaves off, but it can be read as a standalone.
You can get Hope and the Patient Man here:
There is a press kit for Hope and the Patient Man, and the first chapter is here.
Mister Bucket for Assembly
When Bucket the gnome takes up an offer to stand for the Representative Assembly on behalf of his newly-emancipated people, he expects hard work and civilised debate. Not the bitter enmity of an old flame, nasty innuendoes in the opposition's newspaper, or threats from organised crime. Certainly not snipers and firebombs.
Along the way, he has to confront his own cultural prejudices when his beloved and her friends raise the question of why female gnomes can't study engineering.
Can Bucket stand up to the pressure to compromise his ideals in order to get elected?
Place in the series: Follows on from Hope and the Patient Man, with some overlap in the timeline, but stands alone.
You can get Mister Bucket for Assembly here:
Illustrated Gnome News
They may be putting out a newspaper, but there are some things they don't want becoming news.
The Illustrated Gnome News is the only newspaper serving the newly emancipated gnome community, but there are days when Ladle, the paper's overworked editor, thinks that's because nobody else is stupid enough to try to run one. She walks a delicate line between not scaring off all their advertisers and still putting out a paper that stands for a better future for all gnomes - including those gnomes who don't match up to traditional ideas of what's proper.
One of these is her friend Loom, the first gnome woman to qualify as an engineer. But Loom has a secret that would shock conventional gnomes even more than that, and must somehow find a way to pursue her own happiness amidst the wider struggle to turn gnome emancipation into true freedom.
Content advisory: This book depicts a romantic and sexual relationship between two women (without explicit scenes).
The book itself is not illustrated. The title refers to the newspaper at the centre of the story.
Place in the series: Follows on from Mister Bucket for Assembly, with many of the same characters, and is set a couple of years later.
You can get Illustrated Gnome News here:
Hope Persists
Follows the struggles and triumphs of Hope, Patient, Dignified and Rosie forward from the end of Hope and the Patient Man. Parallel timeframe to Mister Bucket For Assembly.
(Released initially as an exclusive to my mailing list.)
Future Gryphon Clerks
Untitled Readiness Novella
Something happens to Readiness, the young skyboat pilot, in the course of Beastheads that I didn't have room to bring to a conclusion in that novel.
I've begun a novella that tells the rest of her story. (No scheduled date.)
The Rediscovery of Hardlac
During the Elven Empire, the elves, master bioengineers, produced a substance called hardlac: durable, light, and made from the sap of a common tree. But they deliberately kept the knowledge of how to make it from their human slaves, and when the Empire fell and the elves fled back to the forests, the secret of hardlac went with them.
Now, the human ruler Victory has a vision of countless skyships carrying goods throughout and beyond the realm, but to achieve this she needs hardlac. She gives her new Research Institute the 500-year-old mystery to solve.
One of the Institute's research teams, sent to the politically sensitive College of Ancient Turfrae, discovers some of these clues in the library, but will their infighting destroy their mission before they make the crucial breakthrough?
Place in the series: Partial overlap in timeframe with Mister Bucket For Assembly and Illustrated Gnome News.
(No scheduled date. In planning phase.)
The Great Gnome Heist
The Hidden Order embedded within the Gnome Advancement League is frustrated and concerned. Free gnomes are being snatched from the street, or from their homes, and dragged into dwarfholds, where, under dwarf law, their service belongs to the dwarves.
Fed up with just defending, the Order hatch a plan to liberate a large group of gnomes and take dwarf hostages to negotiate the release of even more.
When the dwarves won't negotiate, both sides escalate the confrontation, and Victory, the co-ruler of Koslin, reluctantly becomes involved.
Both sides regret this.
Place in the series: Partial overlap in timeframe with Mister Bucket For Assembly.
(No scheduled date. In planning phase.)
Flight of the Resolute
The military skyship Resolute has a critical mission: to scout a route to the east for the new commercial skyship trade, so that the realm of Koslin can keep ahead in the economic war with the dwarves. Along the way, its no-nonsense captain and her diverse crew will meet adventure, discovery and excitement.
If you're thinking "steampunk Star Trek" you're probably not too far out.
May possibly involve other authors.
Place in the series: Follows The Rediscovery of Hardlac.
(No scheduled date. Early chapter drafted, available as a free download to newsletter subscribers.)
Underground Railroad
Amethyst is a New Dwarf, a radical who not only believes in freeing the gnomes from their traditional servitude, but also thinks that female dwarves like her should be allowed out under the open sky.
Born into a conservative dwarfhold, she takes advantage of the new underground railroads that are being built to link the holds together, and goes looking for allies in her political struggle. But can she overcome her own prejudices and see a gnome as a true equal?
(No scheduled date. Not started.)
Realm Agents
A new series of mystery/thriller novels in the Gryphon Clerks setting.
Capital Crimes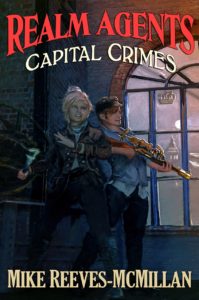 A brilliant engineer and a daring agent uncover a plot that strikes at the foundations of their society.
The new capital of the human realm of Koslin delights in the latest technology, and the emancipated gnomes who build and maintain it.
Precision, one of the first gnome women to qualify as an engineer, and her almost-brother Piston, the first gnome to join the elite Realm Agents, uncover a plot to subvert the infrastructure of the city, steal its technology, and crash the economy. To thwart it, they must enter the place a gnome fears most: an unreformed dwarfhold, where gnomes are still bonded servants.
A steampunk-fantasy technothriller.
(A few characters overlap with Illustrated Gnome News, and it's set several years later, but it can be read standalone.)
Underground War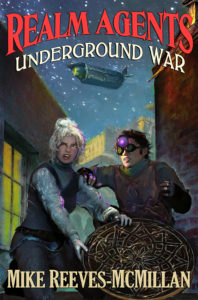 Dedicated agents battle determined adversaries who want to bring down the realm.
Much has changed in the ten years since the Unification War created the new realm of Koslin and freed the gnomes from servitude to their dwarf masters. But every change creates winners and losers, and a loose and surreptitious alliance including old-line dwarves and separatist insurgents is fighting an underground war against the realm.
To oppose them, Piston the gnome and his colleagues in the Realm Agents will need all their courage and dedication, as well as the latest magical technology. And whether he wants them to or not, three gnome women are determined to help: Precision the engineer, Braise the politician, and Ladle the newswriter. But when the insurgents reveal the full scope of their plan, will the agents and their allies be too late to foil a devastating strike?
Institute Spies
The twelve Research Institutes in Newfields are the powerhouse of innovation in the realm of Koskant, but their success draws industrial spies trying to steal their secrets and saboteurs seeking to destroy them. Agent Piston and his senior, Agent Active, go undercover to defend the Institutes against their enemies.
(Work in progress. Probably 2020 or 2021.)
Cut Crystal and Broken Glass
Grace is the privileged heir to an aristocratic family. Rain is a streetwise former gang enforcer. Naturally, when the head of the Realm Agents needs a two-woman team, he puts them together.
A key piece of evidence in an upcoming war trial is missing, and it's up to Grace and Rain to infiltrate a country house, posing as mistress and maid, and find it before a traitor escapes unpunished. But there's more to the isolated manor and its inhabitants than meets the eye...
Partial overlap in timeframe with Hope and the Clever Man.
(No scheduled date. Partially written, paused.)
Standalones
City of Masks


City of Masks is a standalone novel, not set in the universe of the Gryphon Clerks series.
In the city-state of Bonvidaeo, by custom and law everyone must wear a mask and act in character with it, or face civil, social and religious penalties.
Gregorius Bass is sent to Bonvidaeo as the Envoy of Calaria, primarily to get him out from underfoot. Masked as the Innocent Man, and in the company of his radical young Bonvidaoan servant, Bass stumbles into mystery, intrigue, heresy and murder.
City of Masks is speculative fiction (though it's neither science fiction nor fantasy; one reader called it a "political fantasy"). It's a mystery and an adventure (with a sword fight after a rooftop chase). There's intrigue, some humour and a little romance. Beneath all the fun and excitement, though, is a serious reflective point about identity and social convention.
Imagine that G.K. Chesterton and Alexandre Dumas collaborated on an adaptation of Pepys' diary into a serial killer mystery, set in a mad version of Shakespeare's Italy (complete with twins).
You can get City of Masks here:
Not convinced yet? Read reviews on Goodreads.
Gu


Gu is a standalone post-cyberpunk science fiction novella, more or less in the style of Charles Stross.
Gu is the Protean substance, the last industrial product, the stuff that can be anything, can morph into any shape. Susan Halwaz, the famous maker of digital-experience documentaries, is tracing the human story of the development of Gu. You experience this story through her eyes and the eyes of the people she interviews.
You can get Gu here: